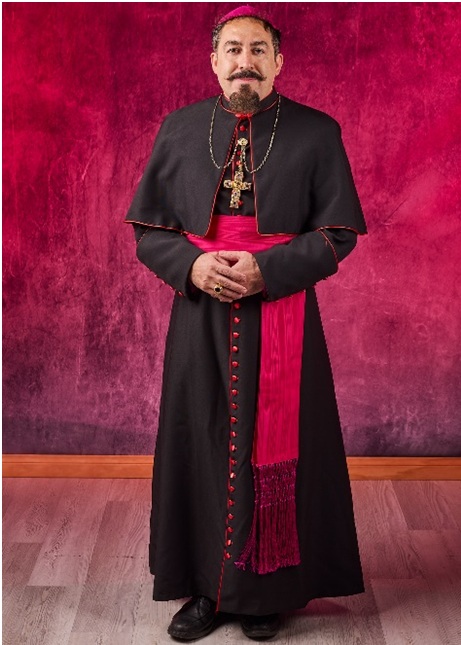 To answer this question, we chose to speak and interview Bishop Edik Baroni, who recently was consecrated as the first Armenian/Iranian Bishop in the Ecumenical Catholic Church of Christ in Los Angeles. He is the presiding Bishop of Personal Prelature of the Persian Communities worldwide and a member of the council of the bishops of the Ecumenical Catholic Church of Christ. He also has a secular job as Assistant Vice president at Bank of America in Los Angeles. In addition, he is a chaplain, spiritual counselor, and bereavement coordinator at a few healthcare facilities in Los Angeles County.
Bishop Edik Baroni speaks about the role of a bishop in serving and overseeing local priests and parishes. There are many priests, but only a few are chosen to become bishops. The goal for a person to serve in the church is to become a deacon or a priest, not Bishop. However, pursuing holy character and working as a priest are commendable achievements. If you feel spiritually and religiously called to this path, here's what you should know.
Bishop Edik Baroni recommends a time of discernment of calling. This can be with a local priest or sometimes with the local Bishop. After serving at the altar for a few months or maybe a few years, a candidate can request to be admitted to a seminary.
Seminary
A seminary is a training college for priests, rabbis, and ministers. Your church will most likely be connected to a particular seminary. Ask your priest to suggest a seminary to prepare you for becoming a priest.
Contact your preferred seminary to find out their application process.

Each seminary is slightly different, but most focus on liturgy, biblical studies, and learning practical ministry skills.

While you are at seminary, try to stay involved with your local church. This will make reconnecting with the priest easier when you return from seminary.
Degree in Philosophy and Theology
Many denominations require priests to have a 2 years associate degree in Philosophy and 3-4 years of associate or bachelor's degree in Theology. This can be completed at a university or college, as recommended by the local Bishop. Ask your priest or church leader to help you choose the right university. This will help you to pick a university that the church esteems.
Serve the current priest as a deacon. When you return from seminary, ask the priest at your home church if you can assist him as a deacon. A deacon can baptize people, perform marriage and funeral ceremonies, and distribute communion and preaching. These tasks help you to become familiar with the work that a priest carries out. If the priest is happy with your work, after 1 year, he will recommend you as a candidate to become a priest.
Forming a good relationship with the priest is essential as they have a significant role in determining if you will be ordained as a priest. Please do your best to support his mission initiatives and grow the size of your congregation.
Work as an ordained priest. Once nominated as a priest candidate, the local Bishop will knight you. You will be given a local parish to look after as an ordained priest. Carry out your work as a priest to the best of your ability. This is what will help you to follow your calling. Do your best to build a strong relationship with the local Bishop.
Again, Bishop Edik Baroni, in the end, stresses that candidates to religious orders may choose to become a religious brother, deacon, or priest. Still, no one decides to become a bishop since a Bishop is selected by a particular church's maximum authority, such Pope, the Council of Bishops, or the Episcopal Synod of a church that possesses apostolic succession.
In simple words, the church doors are open for those who want to become a deacon or priest and serve but not to those who wish to become a Bishop and to be served!