The word 'shelf' can sometimes have negative connotations. (Book)Case in point: the title of this article. To shelf an idea means to put something on hold and lower its priority. It's something that you intend to return to, but we know what the road to hell is paved with.
Shelves deserve a better rap. They are those silent guardians who hold our loads and baggage without complaint. Let's give shelves a little more love. Let's bring them front and centre and put them on full display!
It's not just a one-way street, you know. Shelving can bring beautiful benefits to any home. You can give them a makeover and they, in turn, will beautify your home whilst serving a practical purpose. It's a symbiotic relationship, really. Here are six benefits of adding shelving to your home.
It show'cases' your personality
…if you do it correctly, at least. This part takes planning and a touch of interior styling. If you're buying a shelf new, you may find yourself paralysed by choice. You can eliminate this paralysis easily enough if you eliminate designs that do not align with your colour palette, space requirements, or the items you intend to display from it. Speaking of which—if you are using your shelving to showcase your personality, ensure to display items representative of your interests and hobbies. This can include treasured knick-knicks or the latest book you're reading.
It can enhance your space
When it comes to shelving, you can review your needs on a literal case-to-case basis. Case in point: sometimes you don't need a case at all.
If you have capacity to renovate, you may want to invest in wall-based shelving—especially if you have limited space. This can vary from a built-in bookcase to floating wall shelves. Once you've added this extra dimension to your wall, it can take a real load off your room. Place your items in your wall shelves to reduce clutter and create space for furniture.
It can store more than meets the eye
This tip's for the parents. Step 1: find a resilient shelf that can absorb movement. Step 2: add a box or basket on a lower shelf. Step 3: there is no step 3—just extra storage space for kids' toys. This can also apply to cat or dog paw-rents. Those without children may enjoy this hack for storing board games or their old-school DVD collections.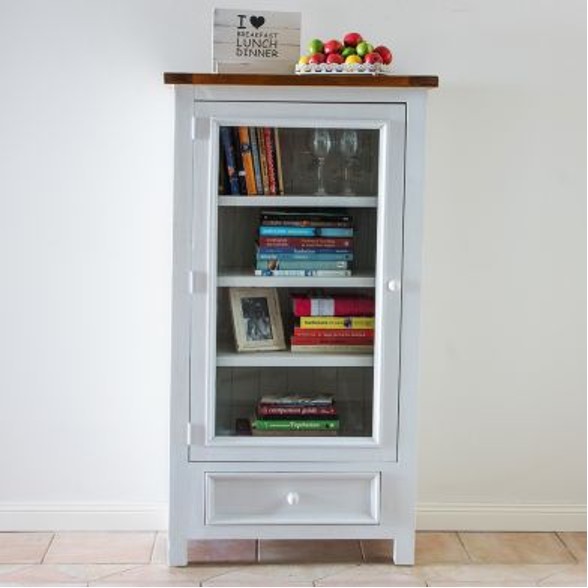 you could go the whole hog and buy a cabinet that already has this idea built in. Image: 1825 Interiors
It can expand your wardrobe
We don't mean shelving can give fashion advice. Thus far, we've personified them as silent entities. However, they can make like a TARDIS and maximise your available internal space. Unfortunately, they don't achieve this via wibbly-wobbly timey-wimey magic. Similar to the 'parent' tip above, you can unlock your wardrobe's hidden capacity by adding shelving or baskets where appropriate. You might be surprised how much more you can store. Before choosing a shelving system for your wardrobe, first decide how you would like to store your clothes. This will inform your decisions and help you get the most out of (or rather put the most into) your expanded wardrobe.
It can shoe-case your collection
Channel your inner Carrie Bradshaw with shoe-exclusive shelving. If you have more shoes than a would spider need, you may want to devote one or two bookcases to 'shoe' off your collection. The benefits of this are as follows:
No more 'Cinderella' moments. This safe space for your shoes means you'll less likely lose your favourite footwear.
Reduced choice paralysis. By keeping your shoes in one place, you'll be able to see them all at a glance. If they're right in front of you, you won't need to recall the designs stored in your mental itinerary.
Your shoe collection will look neat and arguably fabulous.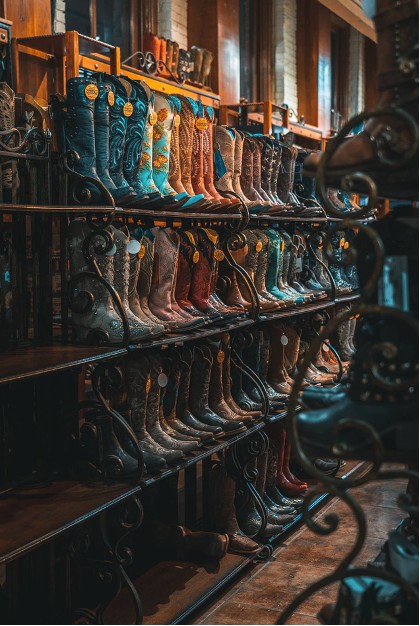 …though there's no argument about this one: this shelf is objectively fabulous. That is one fancy spider.
It stores things
This is the most obvious point: shelving was made to store your stuff. Whether you're organising your pantry or your bookshelf, shelving is what holds everything in place. You could treat shelving as an extension of the floor by throwing everything into it in a nonsensical order. A better approach would be to carefully curate your collections by sections. Add a dash of interior styling, too. You could add bookends that match your colour scheme, or your favourite decor. If you're organising your pantry, it can help to subdivide foods by category, too.